Bioethanol Safety Guide
For your safety and the safety of others please read these instructions carefully
Like all fire and fireplace systems, it's important to run through regular safety checks. Please take the time to familiarize yourself with the safety procedures associated with using your Bioethanol Burner.

1. Only use TerraFlame Bio-E fuel for optimal performance and safety
2. Always fill the burner with a minimum of 1 liter of fuel
3. Do not overfill the burner
4. Never fill the burner when it is burning or hot
5. Never leave a fire unattended
6. Never leave children unsupervised
7. Check that the burner is in good working condition and that nothing foreign has fallen into it
8. Thoroughly clean your burner using alcohol wipes or warm soapy water and let dry
9. Never remove the spark arrestor from the bottle
10. Keep children, pets and flammable items away from open flames; the safe operating distance is 5 feet (60 inches) away from flammable or combustible items
11. Store your TerraFlame products away from flame in a cool dry place
Gel Fuel Safety Guide
PLEASE USE PROPERLY AND FOLLOW INSTRUCTIONS – FAILURE TO DO SO MAY RESULT IN PROPERTY DAMAGE, INJURY, OR DEATH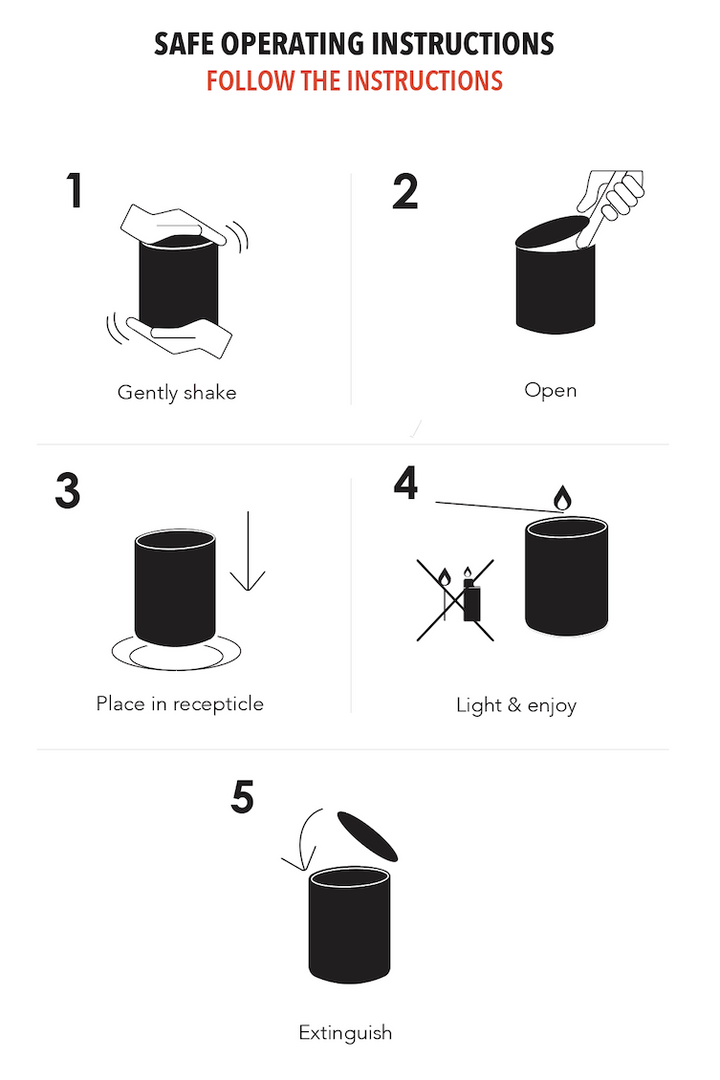 CHOOSING WHERE TO USE: Do not place the fire bowl under flammable objects such as umbrellas, awnings, or drapery or near combustible items such as wood structures, fuel, clothing, dried vegetation or other flammable objects. Do not handle fire bowl while the can is burning.

PROPER FUEL CANISTER USE: Do not use any other type of fuel other than TerraFlame Gel Fuel single use fuel cans. Dispose or recycle canister after use – do not refill canister. Do not attempt to handle canister for at least 10 minutes after flame is extinguished.

PROPER PRODUCT USE:
1. Do not smoke near fuel.
2. Store away from open flames such as pilot lights of any object that sparks.
3. Do not touch or move device while flames are present.
4. Allow ten minutes for the canister to cool before handling.
5. TerraFlame gel fuel canisters will burn for up to 3 hours. Each canister can be lit, extinguished, and then relit, depending on the desired length of time for use. Do not refill the canister. Proper performance with other gel fuels cannot be assured.
6. KEEP OUT OF REACH OF CHILDREN.
7. Only use an extended lighter or long fireplace match to ignite gel fuel.
8. Do not obstruct or inhibit flame by placing anything on or above the device.
9. Do not mix TerraFlame Gel Fuel with any other substance.

First Aid Treatment
Fuel contains isopropanol. If swallowed, call poison control center at 800-222-1222, 911, hospital, or doctor immediately. If swallowed, dilute by drinking copious amounts of water.

If fuel spills on skin, immediately wash with soap and water
If fuel gets into eyes, rinse with cool water
If inhaled, move into fresh air immediately
If fuel spills on clothes, remove as soon as possible and wash
If symptoms from exposure persist, consult a doctor immediately