We discovered you after doing a deep dive on cool fire features. There is so much out there but it looks all the same. Your products really stood out!
Amazing for a small space! Sets the mood perfectly. Gives a bit of warmth and makes a crackling sound - like a bonfire!
Best Tabletop Firepit. Whether you're gathering with friends and family . . . the best fire pits are a must-have. . . . it's easy to get overwhelmed by all of the options -- we've done the vetting for you.
Customer Reviews
Write a Review
Ask a Question
06/26/2022
Deborah B.

United States
Celebrate life!!
We received this as a gift from friends supporting us during my recovery from cancer. It was provided to give us comfort and relaxation during a very stressful time. It provided so much. We have a small lanai and not room for a big fire pit. This was a perfect size and just what we needed to sit relax meditate and chill out during a very stressful time. Since that time, we have shared sending this to other friends who are dealing with severe illness and aging and to celebrate life! I highly recommend it it's therapeutic and beautiful and we are so grateful! Such a small thing can bring so much joy! ❤️‍
We love this fire bowl!
We love this fire bowl! I gave this to my parents as a gift because they no longer have a fireplace and really miss having fires in the winter. I got to set it up with them and it was better than I expected. The bowl is nice looking, there are enough rocks to look good, the gel crackles like a fire, and the flame is beautiful. The flame is big and somehow mesmerizing to watch and it heated up the small room. I think they'll use this and enjoy it a lot. I chose gel over liquid fuel because the other options with liquid all seemed to have complaints about the fuel not lasting long enough and/or evaporating overnight and the flame looked more blue than yellow. The box it came in was nice with smaller boxes for the parts inside, definitely good enough for gift giving. I gave them a cork hot pad to put under the bowl because I was concerned about heat or scratches on their coffee table, but I'm not sure that was necessary. I might get one for myself now...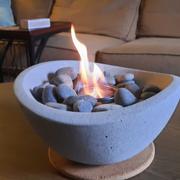 10/04/2021
Jasmine C.

United States
Perfect For a Small Space
Amazing for a small space! Sets the mood perfectly! My husband is an outdoors kind of guy, but for now until we can get a big back yard, this is what we've got! This has dégitent given him his childhood feel of a backyard firepit with my touch of elegance. Works great in a small place. We elected to use our patio, so it was a perfect fit for the space! Gives a bit of warmth, makes a crackling sound. Sounds like a real bondfire. 10/10 recommend!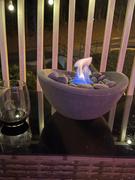 10/02/2020
HAPPY S.

United States
Nice little fire pit
We love our tabletop fire pit. It's a nice addition to our patio. Puts out warmth, but not like a big fire. The flame adds a lot of ambience. Came packaged very well with 3 canisters. They burn for 2-3 hours each. We used the colored rocks and not the stones that came with the unit. Would highly recommend to others. Happy shopping.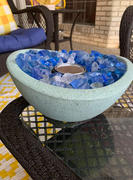 07/17/2021
Judy D.

United States
Arrived Broken! But not your fault!
But your customer service was fantastic and is sending me another! Hopefully it is arriving soon! And….I honestly don't think it was your fault, box was dropped. But you might want to look at your packing…especially around edges.
09/30/2018
Karren H.

United States
The Terra Flame Wave Bowl will last a lifetime
The Terra flame is perfect for a small patio, still gives the ambience of a fire while enjoying the evening. The heat is generated by using cans of gel type fuel so they will need to be replaced and you can get scented Terra Flame diffuser gel or citronella gel to keep away mosquitoes. The Wave fire bowl will be enjoyed for many years to come. The Wave fire bowl is well made easy to assemble, I just unpacked, placed rocks around the center, placed the gel in center and lighted. When I was done, i just slid the lid back onto the gel to extinguish the flame.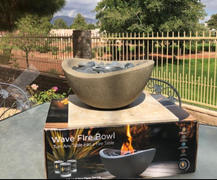 02/20/2022
clarissa e.

United States
Just Love
Exactly as I hoped it would be...great ambiance for my patio
04/20/2021
THOMAS L.

United States
Still in box
Haven't use it.