As a kid I remember making s'mores, not only are they delicious but it's a dessert full of nostalgia for me
Little helpers that make your life a lot easier. Roast marshmallows indoors without crowding around the microwave. This concrete roaster burns clean gel fuel to provide cracking flames for three hours, sans smoke.
S'mores are a great treat, but since doing them the right way requires an open flame, it's not the most convenient dessert. TerraFlame makes it so you can heat marshmallows on a table without lighting up a whole fire pit.
Customer Reviews
Write a Review
Ask a Question
07/07/2022
Niko

United States
07/10/2022
Adam M.

United States
Fun in a box
My Deluxe S'mores kit arrived yesterday. My daughter enjoyed opening the box and reading the recipe book. Then, let the fun begin. My kids loved making s'mores at the kitchen table and we watched the original Top Gun. 5 Star Night!
01/09/2023
Kenji S.

United States
So much fun, faster and easier than doing a whole campfire
I used to have to go outside, clean out the fire pit, get all the wood, find kindling, get lighter gel, light it all up, get the fire going big enough so that doesn't smoke -- all that 20+ minutes of set up so that the two kids could make 4 S'more's sandwiches, declare that they're cold, and then go back inside. With Terraflame it's so easy, I just take off the lid, light it up, they go ahead and roast up a bunch or marshmallows, and then I blow it out or simply put the cover back on, back into the cabinet for the next time which will probably be tomorrow or the next day! Tastes just as good as on the campfire, cleans up easy, gel can lasts 3+ hours.
10/22/2023
Anonymous

United States
Stylish and Practical
Took this camping. Fires weren't allowed but with the Terra Flame we could enjoy our S'mores! Looked beautiful on the table, easy to use, bamboo tray was lovely. I'm sure we will enjoy this camping and at home often and for years to come.
10/15/2023
Caryn L.

United States
Making memories
Great product and lots of fun!
06/01/2023
Sue A.

United States
S'Mores in the Classroom
I purchased to use for an incentive with my 8th grade students. They absolutely LOVED making a S'More. It was very easy to set up, multiple students could roast at a time, and most importantly...it did NOT set off our fire alarm. Win! Win!
05/28/2023
Anonymous

United States
So fun and convenient for inside!
I loved it! It was a very easy way to have s'mores without having to build a fire or have to go outside-
05/17/2023
Diana K.

United States
Lovely Grey S'mores Bundle
Very high quality, heavy weighted bowl. Excellent price for the S'mores Bundle. Free and fast shipping. Cannot wait to use it!
05/17/2023
Shana H.

United States
Ahhhmazing!
I admit, I always thought s'mores indoors was silly…until NOW! This review email caught me as we just finished using it for the first time. 4 of us, ranging 19-63, sat for 2 HOURS talking and just enjoying conversation! EXCELLENT product!! Everything you do is now a memory, make good ones!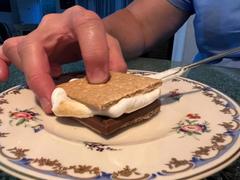 05/03/2023
Mark A.

United States
Use of s'mores kit
Great ! Very simple to use..