Customer Reviews
Write a Review
Ask a Question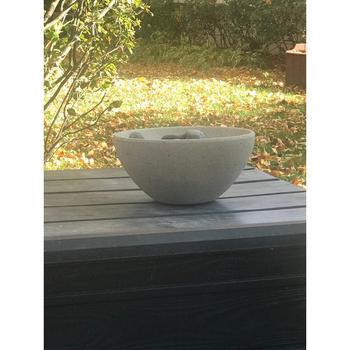 10/09/2020
Adds a nice touch to outdoor relaxing
Set up the fire bowl today for our sitting area outside. I found a cover from the kitchen to put out the fire and also keep leaves out. I then put the can lid back on.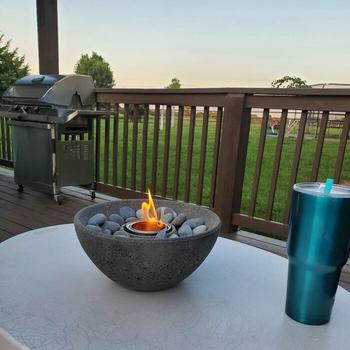 06/23/2020
Used it the first night we got it, kept the bugs away!
Used it the first night we got it, kept the bugs away!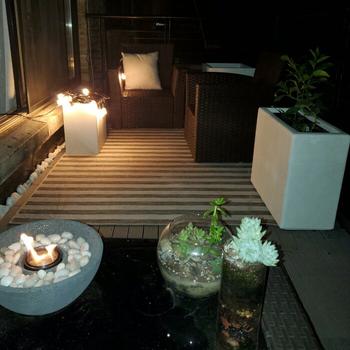 06/18/2020
Nice little table top fire pit.
Nice little table top fire pit. Worth the money. I did buy new rocks to have a little contrast!
Johnny

IL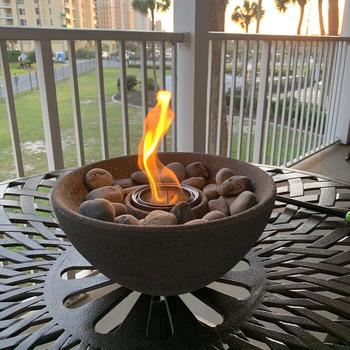 04/25/2020
Beautiful addition to the outside eating area!
Beautiful addition to the outside eating area!
01/26/2021
Great accent to small yard
Looks great for a very intimate flare.
Seguin P.

United States
01/25/2021
Received broken
I love the item but the bowl was received broken on the edge - how can I replace?
Lisa S.

United States
01/08/2021
Great little fireplace
Arrived very quickly. Easy to use. Looks beautiful.
Gretchen R.

United States
12/18/2020
Item broken
Bowl has a large chip when received Otherwise it is a beautiful bowl and my friends I gifted it too really like it
Lauri F.

United States
Lauri-thank you for the feedback. We are sending you a replacement.
12/15/2020
MISSING PARTS
My order was missing the decorative rocks. The box was included, but empty. I sent an email a week ago, but haven't heard back. I can't find a phone number. Hoping you'll respond to this review.
Bonnie P.

United States
Hi Bonnie, Thanks for the question. Our records indicate that we had responded to your email inquiry on December 11th. You had ordered two different models with us, the basin model and the stone model. Our stone model is the only fire bowl we offer that does not include rocks. The well surrounding the can opening is shallow and will not support rocks. The bowl is designed to feature the fire as the main focal point. The box you mention is part of the packaging to ensure the bowl and the fuel is secure when shipping. If you are not satisfied with your fire bowl please contact us, we'd be happy to process a return and help you order another style. You can reach us by phone or email.
12/11/2020
Fabulous
Order 2 basin style bowls. Shipping was lightning fast, but unfortunately one was damaged in shipping. I emailed customer service told them what happened and attached a couple of pictures. Anna contacted me within 24 hours and sent out a replacement. Fabulous customer service! Used my single bowl this past weekend and it was everything we were hoping for. I highly recommend this product and especially Terra Flame.
George T.

United States